Women's handbags have always been in high demand. Around 4.18 billion U.S. dollars worth of women's bags and purses were imported into the U.S. from around the world in 2021. 
When it comes to handbags, you need to know many things. There are many types of bags women use, and have different features and styles. 
In this article, you'll learn everything you've ever wondered about handbags.
Why Are Women's Handbags So Important?
If you are a man and your wife or girlfriend has a lovely handbag, it will be an attractive feature in other people's eyes. The same thing applies to women. Women carry their handbags with them everywhere they go, whether it is for work or leisure activities.
Handbags are essential for women because they have to look great at all times, even when they don't have anything to wear on top of their dresses. 
Handbags will give you extra space to carry more things around. You can also use handbags as purses when shopping or traveling outside your home country.
Women's handbags are a way of expressing your personality and style. They are not only for carrying things but also as fashion accessories.
The most important thing about handbags is that they can make you feel good when you look gorgeous. Handbags come in all shapes, sizes, and prices, so it is easier for anyone to find something that suits them.
What Types of Bags Do Women Use?
Women use many different types of bags. The most common types are purses, tote bags, and shoulder bags.
Purses.
Purses are the smallest type of handbag, and you can carry them in your hands. You can find them in diverse shapes and sizes, some small enough to fit in a woman's pocket. 
You can carry money, credit cards, keys, makeup, personal items, and other valuables in your purses daily.
Tote Bags.
Tote bags are larger than purses; you can carry them by hand or over the shoulder. They usually have long handles that you can tie together if desired. 
You can use tote bags for grocery shopping or daily carrying books from home to school or work. You can also use them as an overnight bag when traveling by car or plane instead of luggage since they don't take up much space as suitcases do. 
Read Here: Different Types Of Bags And Their Names.
Why Do Women Use Handbags?
Women's handbags have a special place in their lives. 
Even though you can use them for carrying various things, such as money, keys, and cell phones, understanding the actual purpose is always a good idea. 
The purpose of a handbag is to carry things. It is not a bag into which people put their cell phones or other small items; it has many other functions. You can use handbags when going to work, parties, weddings, and vacations.
What Are the Most Popular Handbag Brands?
Popular handbag brands include Coach, Michael Kors, Louis Vuitton, and Channel.
Coach.
Coach bags are known for their classic style and quality leather materials. You may consider these bags traditional colors like black and brown, but they also come in bright, appealing colors like lime green and hot pink. 
You can find all styles in Coach bags, from clutches to cross-body bags to satchels or even briefcases.
Michael Kors.
Michael Kors has become one of designer purses' most popular name brands in recent years. 
His signature brand includes large totes with big handles that hang over your arm or messenger bags with a detachable strap is worn cross-body style. These bags are available in various colors and patterns, including red, blue, purple, and green.
Louis Vuitton.
The LV brand is one of the most prestigious in the world. Founded by Louis Vuitton in Paris in 1854, LVMH generated approximately 73 billion U.S. dollars from June 2021 to June 2022. 
Their products range from leather goods to clothing accessories and luggage sets.
Chanel. 
Gabrielle Chanel founded this French fashion label in 1921. 
She started designing her clothes at the age of 16 after she fell out with her mother over her clothing choices (e.g., jeans instead of dresses). 
Today, Chanel creates its line of clothing and accessories that feature feminine silhouettes and elegant designs.
Which Is the Most Reliable and All-Time Popular Women's Handbag?
It's not surprising that there are so many different types of handbags to choose from. 
The Hermès Birkin bag is the most popular women's handbag. It continues to rule the fashion world of the wealthy few and is the ultimate status symbol in arm candy.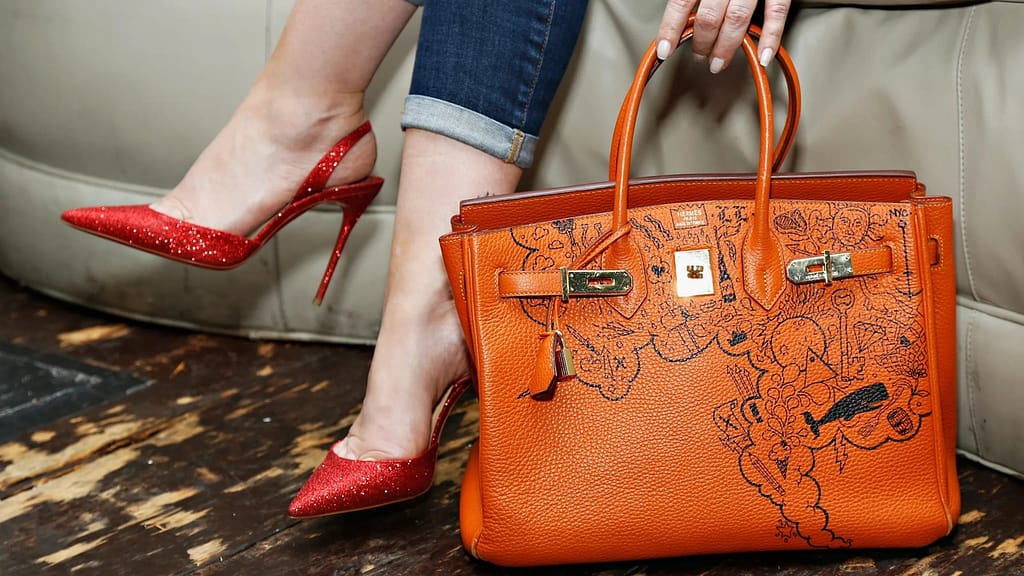 The starting price of Birkin is roughly £5,600 ($8,500) and grows yearly. Victoria Beckham owns 100 of these, costing about £1.5 million ($2.3 million).
Designed in 1984, the famous bag is named after Jane Birkin, a British singer who lived in Paris. An early 1980s flight between Paris and London between Birkin and former Hermès CEO Jean-Louis Dumas led to the creation of Birkins. 
The Birkin is available in exceptional vintage leather with distinctive characteristics. Over 20 tones of blue, from blue-green to indigo, have been utilized in the history of the Birkin. Various animal skins and a rainbow of colors are available. 
Since introducing new travel and tiny variants in Birkin, the size has changed from 35cm. Basic leather to crocodile variants has different costs. A porous crocodile bag costs five times as much as one made with lizard skin. Connoisseurs will like the smooth or grainy, natural-hued leather that highlights Birkin's sleek contours.
Factors to Consider When Buying a Women's Handbag
Even if you're planning to shop from the best brand for ladies bags, here's what you should consider:
Style of the bag.
When you're looking for a new handbag, the first thing you need to ask yourself is this: what's my style? There's no one-size-fits-all answer. You'll end up with something that fits your lifestyle but not your personality. 
First, think about whether you want a handbag that will stand out from everyone else at the party—or if you want something more subtle. If you're more into neutral colors and patterns or bright colors that make your eyes pop, you have several options to look into. 
Pro Tip: If you're looking for a handbag with big pockets and lots of space, look no further than Louis Vuitton!
Material of the bag. 
You can also choose your favorite material when picking out a bag. 
Ask yourself: 
Do you want something made from leather? 
Do you like studs or zippers? 
Everything depends on how much time, money, and energy you spend carrying around your belongings daily.
Handles, zippers, straps, and buckles should be of quality leather or other durable materials. The material should be resistant to water and dirt, and stains. It is also vital that bag materials are not too thick so they do not wear out. 
Size of the bag. 
Handbag sizes vary between brands and styles. If you're looking for roomy options, go with larger bags that will fit more items like Louis Vuitton. 
Smaller bags may be more practical if you don't carry much or want something you can take daily.
Functionality.
Consider buying a bag that you like, not what others use. The functionality of your purse is essential because it determines how easy it is to use when shopping or going out with friends. 
For example, if you have an overstuffed bag that is hard to carry around all day, this could become annoying after a while!
Wrap Up!
A well-designed women's handbag should be beautiful, functional, and stand out. The best designer bags have all those qualities rolled into one. The materials used to make handbags include leather, nylon, and other fabrics. They come in different shapes and sizes, so you can find one that fits your needs. 
Before you buy yourself a designer bag, make sure that you do your homework first. There are some things you need to know about these bags before you open your wallet. Our tips should help you make the right choice about shopping for a women's handbag.